January 21, 2005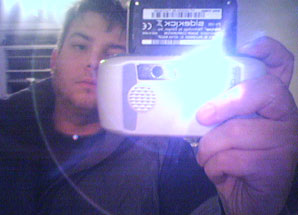 Hey guys. Happy late new year. So for now to get everyone caught up I have started a new blog site that is updated EVERYDAY!!!! Go me. It can be found here. www.fakebig.com
Get into it.






November 05, 2004
Man Oh Man, I am sorry folks that look at this and keep seeing the same thing over and over. Months have gone by and this site is still not anywhere close to being updated, but I have brought in help! Trinsik is stepping in for a redesign, we are gonna overhaul the whole site, I am gonna split the site into two, one will be all my design work (which I have done a shitload lately) and the other will be this mess/personal rants. I am also working on a time line thing with Mike should be kinda cool/depressing and a complete discography of all the stuff I have been on.
You may have noticed that a bunch of videos/mp3 don't work, some people thought it would be neat to hyperlink from my site and run my bandwith up, not cool so now they are just broken links until the revamp. Sorry!
The distance has been very busy as of late, Here is a rundown of some of our upcoming releases. While we may not be playing too much there is no shortage of new stuff coming out.
• "Anything, Anything" 7" single on Armor Music available here
• "M.B. Mayhem" 7" comp available on Good News Records. Click here to order
• With Honor / The Distance split on Martyr Records available here vinyl version available here
• "Your Closest Enemies" 7" vinyl on Bridge 9 records available here
• Upcoming untitled cd on Think Fast records. Click here for more info
• "live @ CBGB's" 7" on Forsaken Recordings available here
We have been very hard at work on the new album "The Rise, The Fall and Everything in Between" we have been working on the record with Ct Mafia producer JR athe wonderfull Trodd Nossel studios. There was a cool little article about us a few weeks back in Play magazine ( a local New Haven rag ) I wish I had the link to the article, oh well.
People have asked me to explain my last entry, If you know me you know what has been going on the last few months, things happen, things suck etc etc. I went through a real weird time in my life and thats all I will say. Am I feeling better, you ask? Not really but its something I am working on.
I don't feel like writing anymore. Maybe more in a few weeks, months, years whatever.
June 02, 2004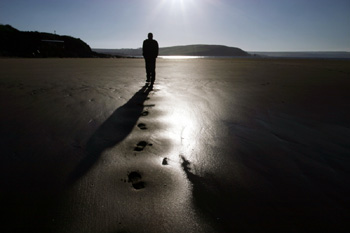 "Hang your weary head, kiss an old friend goodbye"
It's good, It's bad. I wish "it" would make up its mind already.

April 10, 2004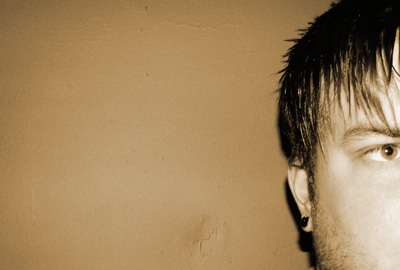 Ahhh it's good to be back and writing in here again. So since last time I have turned 25 I was bummed for days about that. So "Hardcore Gone Wild" was alot of fun. Got to see a bunch of my friends the shows werent as packed as I would have thought but I got to see Terror everynight. Their new songs kick so much ass.
I'll be posting some more interviews in the next couple days, some smaller bands you may not heard of just yet and some bigger bands. Reviews? Who knows, Anyone wanna help? I will say this. I got a cool new cd from our friends at Law Of Inertia its a tribute to GnR and I must say that I enjoyed it very much. You should all pick it up. Video game reviews have been changed, so check that out (it just forwards you to a great new up to date site). I am thinking about making the reviews section a post your own kind of thing, using something like this but then again all you fine folks who read this know that i talk about stuff like this all the time and it never happens. Maybe this time will be different?? ( I do have a friend working on the database for it so it will happen, but still)
This month i am fully backing :
TIVO I have it set to record anything that has Paris Hilton in it, Leave It To Beaver , Full House and a bunch of other crap. Everyone should own one of these.

I am also backing Panic Room SE. 3 dvd set
Is this site getting a little to live journal? Sorry.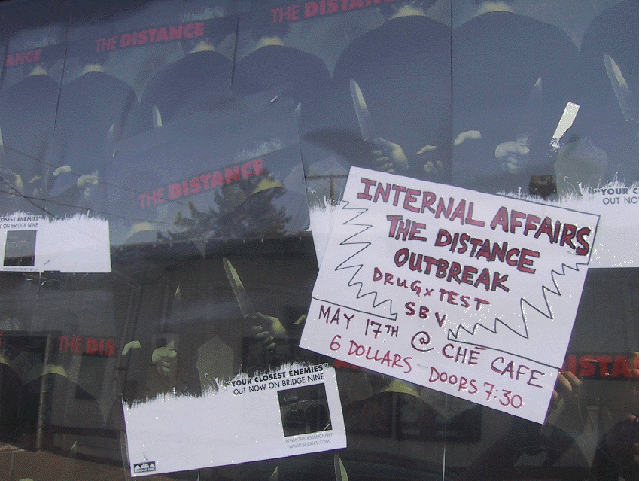 The people at lou's records in encinitas <san diego county>, are really nice. They made this huge window display for us in their front window. Everyone buy stuff from them, esp our new record =) .
So, remember a while back I talked about my side project, Boy Friends Revenge. Well, Looks like it just about done, and will be online May 1, 2004. Your in for a treat. I don't think anyone will expect the style it is from me. The MP3 will be here when its all done and will see a proper relase shortly after. I am very excited about getting this thing done and out!
I think thats it for now. Here is some great music you should all buy, when you buy from these links you help me out. Word!
01. 100 Demons "S/T"
02. Sex Positions "S/T"
03. Ben Jelen "Give It All Away"
04. Guns N' Roses "Greatest Hits"
05. N.E.R.D. "Fly Or Die"
All these titles are availble through cduniverse
March 16, 2004
Another year has gone by. Fuck I am gonna be 25 this year. I am starting to feel old as fuck, esp seeing all these new young kids coming to shows and shit. It's really fucking crazy. Ever wonder where the hell your life went?
I added 4 new mp3, check them out.
Next weekend The Distance will be part of Hardcore Gone Wild if your in any those area's you should come to the shows they are gonna kick.
I fully back Made Clothing, They are really nice
I fully back Nextel
I fully back The Shamrock Shake
I am not backing alot of other things though.
What's up with bands that are only "message board" big?
I saw a review about our record and a kid said I look "metal core" cause of my hair, I guess combing your hair is "metal core" now. sweeeeet! Now if I only sold as many records as some of those bands.
There is a new shirt in the webstore so buy that shit.
February 24, 2004
Hell must have froze over!
We have two new interviews up!
Some Kind Of Hate and Comeback Kid (only took a year!)
Man I am on a roll with this site. Music reviews in a few days!!
HOLY FUCK.
Those risk taken mp3 are getting downloaded like wildfire. In one day we did about 50 gig's of traffic! Thank god that Jay @ HITCATCHER is the best dude ever!


February 23, 2004
titanium joe nigga!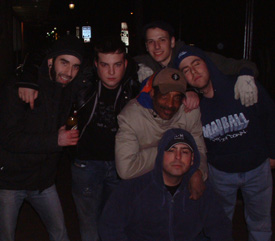 Toads Place! What a good time was had. For a last minute show it was really great. With Honor, Bloodshot, SAHA, Fight Night and Signs Of Hope were all so good. Lots of cool kids came out. It was our first show with our new guitar player Chris and it was TIGHT!
Sorry to everyone that went to VOLT, I got your email's, They have the cd's now.

There is a new CTHC band called "The Risk Taken" I got the demo last night this band is going to be fucking huge!
click here to hear a few songs from their demo.
February 17, 2004
So the day is here. Our record is in stores and I am so siked! We have worked so hard on this thing so please go out and support the scan!
I sang on the Outbreak record last night and let me say this, this shit is gonna be off the hook! It's so fucking fast and thrashy, all HITS!
Buy stuff from PITCHFORK they sponser The Distance, Hatebreed, Madball to name a few.

"Every possible thing that can happen or will happen has already happened somewhere".
February 13, 2004
Crossroads of america | Please support my scan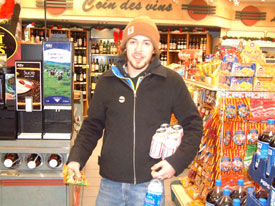 I hate being home. We just got back from our run with Comeback Kid and Blacklisted. The shows were awesome and better yet we got to make some really great friends over the past few days. Lancaster by far was the best. The tour ended with Dobyns throwing up at a rest stop in Ohio and running in the highway while MTJ kept asking for "shot senicas" N.D.P.
Our record "Your Closest Enemies" comes out this Tues. Feb 17,2004. If possible please try to get to one of these stores and pick up the new record, we would love to have a great first week scan (if you don't know about scans, grab me next time you see me and I will chew your ear off about it) SCANS UP!
If you haven't seen our new music video click here.
My good friends in Outbreak have entered the studio with Don Fury, I am so pumped to go to the studio on Sunday, I'll be doing a guest spot and I'll get to visit with Don who did almost all the VOR recordings.Their album will be out on B9 this summer.
I have some new mp3's that will be going up. My mp3 section is made to bum kids out.
Atticus, anyone?!?
I took a bunch of new photo's, I am gonna drop off the roll and get some online.
Steph is gonna start posting stuff here in the news section soon, should be fun to see what she has to say.
Reviews are almost done, I am only gonna review the "newer" stuff I got. Why post something that is already 8 months old.
The Distance has a bunch of shows coming up and a new shirt added to the webstore (if it's not up yet it should be up asap).
We will also be entering the studio for our split w/ With Honor
January 17, 2004
Rhinofood where are you?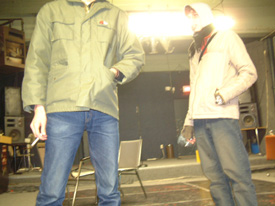 What to do, what to do. So I think more now then ever people have been telling me they look at the site all the time etc etc. I wish I knew what the hell I am gonna do with it. I may just make it more personal rants and shit talking and make the reviews and interviews a "submit your own" kinda thing. The new distance record comes out in a few days. I am pretty siked up on that. If everyone could go to their nearest store on Jan. 27 and help that scan I would love you forever. I am gonna put a list of stores that will have it (and stores that scan!). How was everyones holiday? Mine was pretty cool I got some really cool stuff. I got one of those really neat T-Mobile Sidekick's and a brand new 40gig Ipod . They day after x-mas the distance went on our second tour w/ OUTBREAK and boy were some great times had, Those dudes are our family and we were siked to share the holidays with them. Dobyn's even got to have "Dinner At The Y" on new years and Clean (outbreak merch guy and all around awesome dude) got to enjoy some "BBJTC" on his day off. We spent about 100 dollars on Big Buck Hunter II everyone should play this came. They had them at every Flying J we went to (don't even get me started on how awesome and how much money and time was spent at the flying J across the mid west). We are going back out with Comeback Kid and Blacklisted for a short run so some of you guys should try to come out to that, here are the dates :

February 6, 2004 Brooklyn Park, MD @ Brooklyn Park Center w/Comeback Kid, Blacklisted
February 7, 2004 Boston, MA @ ICC Church w/Comeback Kid, Death Threat, & Blacklisted
February 8, 2004 Syracuse, NY @ Planet 505 w/Comeback Kid, The Promise,Blacklisted, One Up & more
February 9, 2004 Lancaster, PA @ American Legion Hall w/Comeback Kid & Blacklisted
February 11, 2004 Indianapolis, IN @ Rehersal Studios w/Comeback Kid & Blacklisted

One or two more shows may get added.
I have been getting into photos again so look for some new stuff soon.
I have a new webstore up, Click here for that.
Visit one of my sponsers and buy some of his stuff.
I am sure I am in no way caught up with everything. If you get a chance I did one of the best interviews ever with my boy Mike and Rough Sketch Zine drop him an email to get a copy trust me you will not be let down one bit, he is even going as far to say that if you do not like what you read he will give you your money back. Big ups to Mike and Win!
Here is another interview I just did with NicholeStarr. I just did a bunch more so I'll post those in a few months when I remember to update this thing again.
Playlist for the week :
Some Kind Of Hate "Undisputed"
Blacklisted "Our Youth Is Wasted"
With Honor "Heart Means Everything"
Sigur Ros "()"
Some Girls "All My Friends Are Going Death"
Green Lantern "Invasion Pt.3 Mixtape"
Counting Crows "Films About Ghots"
Camera Obscura "Under Achievers Please Try Harder"
Paris Hilton "unreleased album demos" (if they exsited I would rock these, I love her)


October 24, 2003

Man I cant believe I havent touched this site in so long. I have a STACK of reviews to do, Interviews to post. Man so much has been going on. The Distance record and video are done! Everything has been sent to the pressing plant and we should have them soon. We have been playing non stop and it rules, shitty part is this site ( and my personal like) really suffer but I swear I am trying to turn it around. If you have sent me something for review trust me it will be on here. I will stay up for a week if I have to. Back to band stuff we will be playing pretty much everywhere soon so please come out.

This Tuesday 10/28 one of our good friends is releasing their album. HATEBREED "The Rise Of Brutality" will be in every store and if you really wanna listen to one of the best records and real hardcore please go out and buy this. If you buy it online at FYE they are giving away a free download to an unreleased song and a free sampler. Don't forget TUESDAY!! You can download one of the new tracks here

Anyone been listening to anything good? I have! Outbreak, Blacklisted , Some Kind Of Hate, Signs Of Hope to name a few. All bands have stuff out (Trust me that is by no means a full list).
Stillborn has been taking up alot of my time as always and there is a bunch of shit going on over there. Check out the site.

Ok site stuff. We will be moving servers soon, which is also going to make the site way easier to update. All staff members will be able to update without having to send it to me, and have me type it out and post it etc etc. So it should be cool cause I know Steph esp. has been bugging me to do something with it.
I am gonna plug a site. Devastation Media All your web needs. Hook it up!
It's so hard to recap so many months.Everyone check out your local scene,
help promote a show, make a flier, do a zine, start a website (even if you cant update it all the time) do something. For some of us this is all we have. Reflect on your life and try to make changes for the best. Value your friendships ( I just lost a close friend over somewhat stupid shit) you never know when that person will be gone. If "your" reading this and we haven't talked in a while, know I miss you.

"Some people need to be confused, for confusion is sometimes the first step on the road to enlightenment."
June 17, 2003
Just added a new interview with INTEGRITY go check that out. Later this week look for two more interviews one with COMEBACK KID and one with Matt Pike of Some Kind Of Hate.
June 10, 2003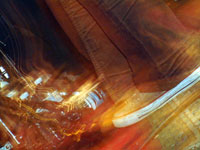 Raise your hand if your a slacker! I always use to get so mad when I checked sites and they weren't updated for like a month and now I have become that, I hangmy head.

It's not like I havent been doing anything, I have been very busy with the label and the band. I had two amazing release's come out one is from a CT band called WITH HONOR and another band from CA called THE PROGRAM both bands kick alot of ass and you should check them out and buy their records you can get them both by clicking here .

On the music front incase you haven't heard my band (that's the distance for all you dude's not in the know) have signed to Bridge 9 we will be recording in August for a release in October, we are super siked on this.
On the site scene I added over 15 new reviews and some new photos thats I took(which I am trying to get back into) and new mp3. I am really sorry about taking so long to update, I am gonna try to be more on top of things. We will have interviews coming up with COMEBACK KID and MATT PIKE. Al is gonna have new game reviews for all your crazy cats also.
I am also looking for some new staff writers, If anyone else can help get in touch with me in the contact section.


April 1, 2003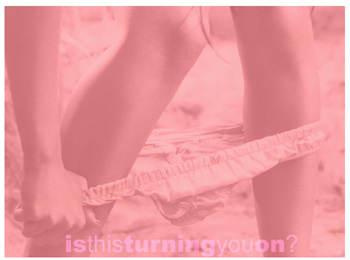 It has been a crazy month. Full update coming this week, I PROMISE!
In the meantime head over to Evolving Artist to read a new interview about the distance , the label and all that other good stuff.

Everyone should come down to this show.


April 11, Fri - 7pm - @ The Roxy - 71 Wall St. Norwalk CT
MADBALL!!
Backfire , Bury Your Dead, The Distance
we are the first band, so come early we go on at 8:00
more info go to www.rezinrecords.com
Thanks so much to Royce @ Stone City and the guys in MADBALL for hooking that up! We go on first at 8pm, doors are at 7 so come early
March 03, 2003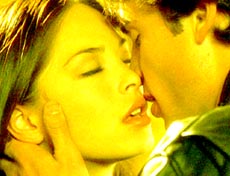 Wow I am kind of on the ball, Two new interviews up with Terror and Stretch Armstrong and 8 new music reviews. Still coming an interview with No Warning and some new videos (I promise as soon as I get my capture card running again).
Everyone be sure to pre-order The Distance 7" over at TAKEOVER RECORDS. After your done doing your business here check out two of my friends new sites Wes Threat and xScodex .Word to your mother!
Feb 13, 2003
Hell yeah! Andrew W.K. interview is up now. This is a great interview. More interviews this week with Stretch Armstrong and No Warning as well as some more reviews and videos from the Integrity reunion show a few months back in CT. FUCK!
January 21, 2003
Added 7 more reviews. Mental , On The Rise , Ramallah , SO Be It
Closer Then Kin , The Rocket Summer and a.18.
More reviews and some new mp3 , videos and photos up this week.
January 20, 2003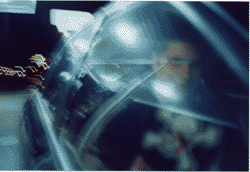 here is that long overdue update. New music and game reviews. One new video of MADBALL at their come back show in CT. I have some cool interviews coming up in the next couple weeks as well as catching up with some more reviews (mostly older stuff) and getting some more videos up. Word up!
Also be sure to catch the distance we have some cool shows coming up :

Feb 7 @ El N Gee , New London CT w/ Ringworm , With Honor. Headliner tba.
FEB.FEST
Feb 22 @Club h2o Watertown , CT
w/With Honor , For All Its Worth. The Distance, Silenced, Fight Night
more info email : robsilenced@aol.com
Feb 28 @ The Roxy Norwalk, CT w/ Hatebreed & Death Threat
March 1 @ New Milford Teen Center , New Milford CT w / Sub-Zero & Dead Wrong
more info email : DEADxANDxGONE03@aol.com
March 7 @ Oddfellow , Stratford, ct
w / for all its worth , untold truth , fight night
more info email : Blakefall@aol.com
December 12, 2002




For all of you that are looking for a great x-mas gift from someone I would like you to head over to our new advertiser and get some gifts. These shirts are sure to get you noticed. Please be sure to at least visit them and see what they have to offer.

December 10, 2002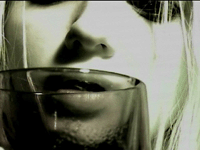 Man where do I start to talk about how much of a slacker I can get to be sometimes. My life has been crazy since the last update, I am sorry to everyone that comes here looking for an update and has not gotten one. I have a shitload of reviews to post and three interviews and some new video. Starting in Jan 2003 I will get back on the ball thats my new years promise.
The Distance which features yours truly is playing an awesome show for an awesome cause if you can please come support this show |
DECEMBER 22nd, 2002 @ El N Gee , New London , CT
Mass Concerts and The Kenmore Agency Present A Benefit for the Gee with a special half-acoustic set from Piebald also: The Reunion Show | The Distance | more bands tba SOME MORE HARDCORE BANDS WILL BE ADDED TO THE BILL!
Raffles and Giveaways!
Stillborn records has been taking up alot of my time, we have some really cool things coming out head over to Stillborn for more info. I guess thats all for now I love you all and have a great holiday.
<3 - Jay
I also want to give a quick thank you to a few people that always help me out and
have been there for me in one of the most craziest and exciting year of my life.
BFM , All the members of JasonAlex.com (esp. Steph) , Ivan the slob , Jamey Jasta,
Joe Harrington, Big E (scodelike) , Josh Holden and All the wonderfull bands I get to work with everyday @ Stillborn Records ( The Takeover , Sworn Enemy , Full Blown Chaos, The Program ) and all the people that make this site worth doing.
September 30th, 2002
A decent update today. I have added two videos. One of Carry On from last years back to school jam and one of TERROR from last week. Also two new interviews with Brand New and Rainer Maria. Reviews are of course late as always but well be done this week. Some new mp3 are up for you to download. More interviews coming soon with TERROR and others. word! P.S. There was a little problem with the TERROR video it is fixed now.
September 27th, 2002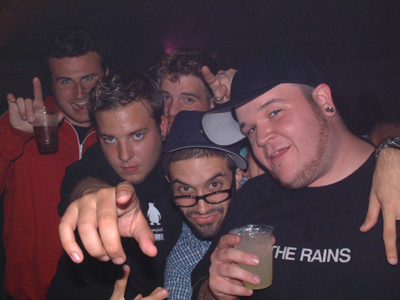 I am finally home! I will be starting the task of updating the site this weekend, I have new game reviews , three new interviews, new mp3 and some record reviews. I will be working on getting up all the photos from the trip.

The distance has signed to TAKEOVER RECORDS we are really excited about this, we will also have new merch so be sure to go to our site and check that out . Hopefully by mid October the Almost Legal Clothing site will be up and you can order all the fresh new gear, keep your eyes opened on this seasons "The Osbournes" to see jack rocking our mesh style hat. I cant really thing of anything else to write about now but check back Tuesday.
July 27th, 2002
So I am sitting here in Gainesville, FL with the famous Big E from shows in a very shady hotel room and I thought I would share alittle bit about whats going on here. Tour started on July 5th and has been nothing but good times since. On the first day of Ozzfest we saw a drunk Kelly Osbourne falling all over the parking lot and some guy having to carry her back. A lot of people on the Ozzfest have turned out to be really cool Eric and myself have become good friends with Andrew W.K. and all the guys in Down. Ill Nino has perfected the art of the straggle which is amazing to watch and the singer is always mistaken for the guy from POD. The off dates have been awesome HATEBREED has been tearing people apart. White trash b.b.q's with DOWN everyday. Phil from PANTERA is so shot ,the dude needs a dude to follow him around so he does'nt just walk on to other motherfuckers buses, Phil also enjoys the CRO-MAGS second day of Ozzfest we walk out of our bus to see Phil listening to an original cass. copy of thier demo. I have a ton of pictures that I will be posting when I get back and I have some great stories that I cant put up here. Hope all is well. More updates soon.
July 17th, 2002
Life on the road seriously rules. I am having such a great time and have been meeting tons of people. I had a quick second to get to a computer and wanted to drop a line to everyone and say hello and that I miss you all. Pictures and videos of our trip coming soon! email me.
June 24th, 2002
Man do I take forever to do stuff or what! After a long wait about half of the reviews are up and more are on the way. Sorry to all the labels and bands that sent stuff for the delay, you know how things go , if your stuff isnt up now it will be by Weds. I also have more game reviews and some new interviews coming. I am going to be away from July 3rd to Sept 9th on Ozzfest I will have my laptop and the site will be updated from the road since their isn't going to be much else to do during the long bus rides I am going to try to interview some of the bands and will still be doing reviews and all that other fun stuff.

Winners of the Death Threat contest have been sent emails and your cd's have been shipped out, Thanks to everyone that entered the feedback was awesome. More contest are on the way.

My New band the distance has launched a new site be sure to surf on over and pre-order the demo, Thanks to BFM for doing an awesome job on the site and for being an all around awesome dude. In some sad CTHC news Anthem played their last show last week, I am bummed I didn't make it but it just sucks because they were just starting to get to their peak. To Jordan , Danny , Joey , Nick and Mike I wish you all the best in your future plans. Other then that nothing else has been happening just the same old busy stuff , Look for new Stillborn artist I am working with and some other new releases we have coming out on the label. And keep voting for that Hatebreed video on MTV2 its been paying off! Order BUM FIGHTS this shit is off the hook just ask Ivan or Jamey. Lates!
May 28, 2002
A quick favor to ask of everyone that visits us, please vote for HATEBREED's "I will be hear" on MTV2 simply fill out the form and submit it. Jamey and everyone else in Hatebreed has done so much for the scene and this is a good way to show them that we appreciate what they have done for us. Also be sure to visit Xmas bitch.comthis is a must see site! The Distance is also going to be on a comp being put out by Hold Your Ground Records from the west coast , also on the comp will be The First Step (NC) The Damage Done (CA) this is going to be out in August.
May 22, 2002
Added the Poison The Well interview and Taking Back Sunday.
Added two new video game reviews. Three new pictures up in the photo section. We are so backed up on record reviews, they will be up on weds along with some new videos. Please keep visting our sponsers on the left, I am working on making the banners a bit bigger for all the people who say they cant read them.
May 14, 2002
Ok Ok, So I slack, alot! The reviews and interviews will be up Monday, no matter what. We have interviews with Poison The Well and Taking Back Sunday. Please continue to visit all our sponsers on the left hand side of your screen. Also The Distance a band featuring yours truly has just finished tracking our demo and will go back to mix during the first week of June, please go to our site and download a rough mix of one of our songs.
May 02, 2002
Sorry for the lack of updates but things have been so crazy! Reviews and new videos are on the way, PROMISE! We are gonna start with the first ever JasonAlex.com contest. Thanks to our good friends in Death Threat and Triple Crown Records we are teaming up to give away FIVE copies of "God and Government". The way the contest will work is there are 5 questions, You have to answer at least three out of the five correctly to win. Each day we will take one random winner at Contest@jasonalex.com the person who gets the questions right ,wins a cd, it's that simple. Here are the questions :
1 : Name two ex-original members of Death Threat
2 : Name the record label to release last days
3 : Name the location and lineup of the first Death Threat show
4 : Name the artist who did the art work for both Death Threat albums
5 : What is the original meaning of SDS ?

In the email please included your full name and address.
If your out on the westcoast be sure to check out DT on their tour with American Nightmare and Striking Distance. For all of those people that are sick of the same old websites I urge you all to check out my friend Big Bri's web page, the page has so much content and is updated daily! Look for a full update next week! New mp3. videos , reviews, interveiws
March 23, 2002
Hey everyone! Sorry for the lack of updates last month I have been so busy gearing up for the HATEBREED record which invades stores March 26th. I urge everyone to go out and get this record. We have added over twenty new reviews with a few more on the way. Three new videos and two new interviews. You will also notice our new look! We have worked really hard to bring this new look which is easier to use and looks a hell of a lot better. In personal news I have started a new band which you can check out here we have our first show April 6th at the El N Gee in New London, CT so if your close you should come and say hello. Please visit our sponsers and if your interested in getting a banner on our site email me and we can work something out. I have some cool stuff planed for new month but I am not gonna say anything just yet. We are also working on some contest I am just trying to think of how to do it. late.
March 23, 2002
Better late than never. Come back for new additions as they trickle in. Movies, reviews, you name it, it's coming. Stay tuned.
January 08, 2002
I thought this day would never get here. Here is the new format for my site. On top of all the good stuff you get from me I have added interviews and reviews in the music section, video games under other, TWO new videos and I added a staff of people who are gonna help me make this one of the best ways to spend time on the nerd! I hope you all enjoy all the new stuff. Drop me a line and let me know what you think. Thanks - Jason
2001-12-11 08:32pm
You have to lose everything before you gain anything. That has never felt more like the truth. I am working on a new look for the site. Full update then. later folks
2001-23-10 12:40am
I wanted to share this with everyone because I got such a kick out of it. It's my first form of like a hate mail thing about me and my site. I laughed when I read it. If you want the persons email ask me for it and I will give it to you or their home phone number. here it is "listen u need a major attitude adjustement ok, so don't fuck with me! all i've ever done is try to be nice with u and u try to be some fucking wannabe ass poser with your fake ass wannabe pictures and site. kiss my ass... u're a fucked up sell out, a tru sell out!" I didn't know having a site makes you a sell out. jealous people are not cool.
2001-15-10 12:09pm
You know something must be going on if your getting two updates in one week. Well for a while I have said I have some big news, while some of it I can't talk about yet I can mention one of them. Over the past few months my partner Chris (who you have seen on the site) and myself have been working on doing a video. Some of the stuff you have seen on the site and some you haven't due to the fact that we have yet to secure proper release forms for some of them and we have yet to get a lawyer incase some of the stuff gets us in some hot water. We are planning on doing it on VHS to start and a possible DVD. We have about 25 really awesome minutes of footage. We are aiming for about an hour and a half. The cover art for the VHS can be seen here and the video should wrap by the end of the year for a release on the mid-summer of 2002. Chris and myself are very excited to have come this far with it. We have also been talking to some really awesome distributions about getting this video in every home possible! I will keep you posted as it goes along and should have a trailer to view in a few weeks. If you think this is big news just wait.

2001-11-10 04:50pm
The STALEMATE cd is out. I am very proud to have worked on this record, It really is one of the best releases of the year. You can download a track here. Dead Wrong cd is finally complete it will see a release on 10.30.01. I am very excited to have Shout it! release number 2 out. I also added three new videos from the mall series these are some of the best ones yet. All the video's were filmed during mall hours, you should have seen the look on people's faces and a Movielife video. I also added a note to the vor section.I am gonna be adding more stuff to the mp3.com page so keep looking and keep downloading. I wish I could think of more stuff to talk about if I do you will see another update.
2001-18-09 10:58pm
Added seven new videos today. I got some really funny stuff with Eric and Wes from American Nightmare. I also added the videos of Chris lighting his hand on fire. People saw the photo and didn't think it was real. Here is the proof. The photo page will be fixed by the end of the week. Everyone keep downloading stuff from the mp3.com page it's really been helping. I should have some big news for you guys soon. Thanks again to everyone that has helped with the site and all the people that visit here. I am adding a new section soon be sure to check back.
[ archived ]