Ok lets get the boring shit out of the way, Tell us a bit about how Terror got together?
Todd Jones : Me and Nick met Scott and we all wanted to start a hardcore band. We were all not in bands anymore, and we all wanted to play.
Since your start you guys have been non stop on the road, how did the decision come together to really be a full time band?
TJ: Since we started this band, we wanted to go full time as soon as we possibly could. We put out a demo and played our first show in April, played a lot of
show around Southern California, toured for about 3 weeks with Death Threat
around the US., came home, and then three weeks later, we all quit our jobs
and went on tour for two months. We knew from the start that this is what we
wanted to do, and I'm very happy that it happened so early into the band. We
are very fortunate.
You guys have toured with alot of different style bands , which bands do you
guys like playing with the most?
TJ: Out of the few bands we've toured with so far, I personally like touring
with Death Threat and Throwdown the most. Every member in each band is a
good dude that I can get alone with, and I like their music a lot.
Chris and all the Bridge 9 staff rule, how did you guys hook up with them?
TJ: I knew Chris through my old band, Carry On. When Terror got together, we
talked about what labels we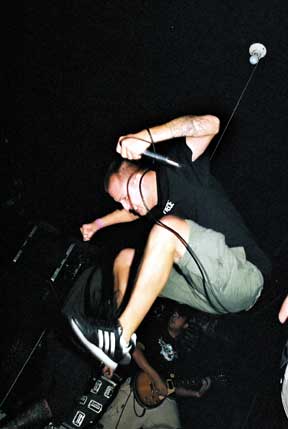 really liked and would like to have represent
our band, and Bridge Nine was on the top of the list. Bridge Nine has gone
above and beyond our expectations as far as supporting our band. We're
nothing but happy with Bridge Nine Records.
Tell us a bit about your new release on Bridge 9?
TJ: We recorded a 9 song EP at Mars Studios in Ohio last September, and it just came out on January 28th. Like I said, it's an EP, not an LP. A lot of people are calling it a full length, and it's not a full length!!! We wrote
most of those songs a few months into being a band, so a lot of the songs are a little old to us. We're writing our full length right now, which we
plan to record in October (2003) and hopefully have out early next year. We
already have a ton of material for it.
You guys are getting ready to plan an album what can you tell us about that,
what else do you guys have coming out in the future?
TJ: Like I mentioned above, we're writing our album right now. We're shooting to
have 15 songs on it. The material we have so far surpasses any song on our
EP, and we're really excited about playing the songs live until we get this
stuff released. In June, we're going to have a split 7" out on Deathwish
Records with RINGWORM.
The west coast has really been building up over the past two years, what
bands should we be on the look out from there?
TJ: First Blood, Interal Affairs, Piece By Piece, Vendetta, Donny Brook, The
Mistake, The Miracle Mile, Impact, Allegiance, The Damage Done, Folsom,
Where Eagles Dare...I'm sure there's more, but I can't think right now.
Check out In Control, they just released their 2nd full length on Indecision
Records called "The Truth Hurts".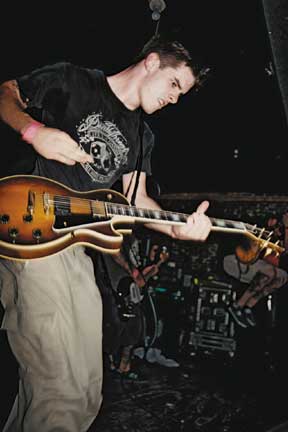 What new bands are you currently into?
TJ: Half the bands I listed above are bands I would actually mosh for. The West Coast is poppin' right now!!! Not too suck a dick, but I like your band (The Distance). I like Sworn Enemy a lot...they aren't new, but I'm new getting into them. Jailbreak from Detroit...I listen to a tape of their new 7", it's really catchy. No Warning. A Death For Every Sin. Plan Of Attack from Chicago.
With bands like Hatebreed and Sworn Enemy being on major labels do you think thats somewhere you see yourself?
TJ: Who knows? I've always been into the more "independant" side of hardcore,
but honestly, after being in a full time touring band, and going through all
the stuff a full time touring band goes through, I wouldn't limit my
options. The bottom line is, if we can do what we want to do and do it our
way, and still have our shows on a "hardcore" level, I don't care. If we can
play shows without barriers, have the ticket prices fair, and have our CD at
a reasonable price, I don't see why it matters on what kind of label we're
on. We're broke and we can't get jobs in between tours cuz there's no time
for that. I'm selling my rare records right now because I need a car. I know
a lot of people might not understand what I'm talking about, but until they
go through the experience of fucking your life up to commit to hardcore full
time and touring, I don't want to hear what they have to say.
What does the future hold for Terror?
TJ: Lot's of touring!!! We're going out to Europe with Biohazard in April/May,
and then flying to the East coast and starting a tour with Shai
Hulud/Bleeding Through/Most Precious Blood that will go from late-May to
mid-July and then hopefully another tour. Record our album in October.
Japan/Australia/New Zealand tour as well before the year is over.
any final words or thoughts?
TJ: Buy the new 50 cent album. It's catchy as hell.